08.29

The staircase has been restored!

For the last painting stage, we mixed pigment paste with linseed oil and turpentine. Colours were recreated according to the original colours of the staircase.

Scroll below for more info.


Kibe Projekt team members:
Thomas Ibrahim
Turan Ziaiemehr
Francesca Crotti
Martynas Killius
Felix Eibl
Luka Gudushauri
Nika Gabiskiria
Giorgi Shaburishvili
Dato Shaburishvili
Nita Ivanishvili
Katya Petrovskaya
Lasha Shartava
Gio Sumbadze
Carpenter:
Davit Liluashvili
Constructive supervision:
Boris Dgebuadze
Volunteers:
Ulla Alla
Luka Goglidze
Nodar Charkvian
Giorgi Todadze
Ninutsa Shatberashvili
Rezo Kharchilava
Rezo Sharashidze
Gaga Turmanishvili
Dati Tsintsadze
Giorgi Zhorzholiani
Mariam Dzimistarishil
Kote Gaprindashvili
Kote Vacheishvili
Levan Chilashvili
Sopo Kobidze
Giorgi Vardiashvili
Nino Sakandelidze
Anaïs Bidner
Special thanks to:
Ramaz Gabiskiria
Maria Teresa Pellegrino
Mehrshad Ziaiemehr
Paola Guerini Rocco
Sandro Sulaberidze
Angus Liddle Brown
Hubert van der Mill
Triin Reidla
Givi Machavariani
Tamaz Tugu
Rezi Gvaramadze
Giorgi Namgaladze
Sandro Gabiskiria
Beka Tsikarishvili
Anna Kapanadze
Nana Gogichuri
Nina Tsotsoria
Avo Tragel
Zaza Abuashvili
Valery Lazashvili
Alvydas Ambrasas


This project could not begin without the support of The Heinrich Böll Foundation, Goethe Institute, Institut Français, Izolyatsia, and i-Portunus; and the generosity of all of our donors:

Maria Teresa Pellegrino, Lasha Bezhashvili, Anatole Velitchko, Greg Turian, Gene Malkin, Paola Guerini Rocco, Oliviero Albini, Natalia Alhazishvili, Alma Pannier, Medea Turashvili, Natalia Piyevsky, Irakly Avaliani, Natasha Gordinsky, Fernando Quinto, William Dunbar, Dimitri Gomberg, Anna Chinchaladze, Gianfranco Guerini Rocco, Elspeth Suthers, Sohko Shimizu, Lisa Offerman, Deniz Souyer, Natalia Novakova, Salome Vakhania, U. Schunemann, Anne T Welsh, Stefania Catalanotti, Anni Katrin Elemer, Elene Imnadze, Tatjana Oserova, Andrea Venditti, Lasha Bezashvili, Dmitry Muraviev, Laura De Panicis, Tamuna Cheishvili, Helga Kurzchalia, Sibylle Helbich, George Antadze, Heinz Gengenbach, Vera Bischitzky, Tanja Hutt, Martina Lotti, Roland Buadze, Jennifer Stiers, Jonathan Powell, Nino Gabisonia, Karin Odendhal, Caroline Hager, Sophia Kuprava, Marita De Boni, Aleksandra Kopilova, Nick Beresford, Katharine Khamhaengwong, Andro Atoev, Herrn Daaededd, Nina Akhvlediani, Tamar Tsulaia, Tamar Tsulaia, Giorgi Tushishvili, Ekaterine Gegenava, Nona Kereselidze, Bagrat Imerlishvili, Ekaterine Kharabadze, Sophiko Buadze, Gogilava Lasha, Ezugbaia Temur, Nino Kiknadze, Archil Ghonghadze, Mariam Sikharulidze, Teimuraz Machavariani, Aleksi Javakhishvili, Tamar Tsulaia, Tornike Gognadze, Ketevan Vashakidze, Iana Kovalova, Ahmed Erhan Akar, Ana Sakvarelidze, Rusudan Buachidze, Aza Slanova, Tobias Reinhard, and Teo Khatiashvili.

We would like to give special thanks to Temur Ugulava, whose contribution is essential in saving cultural heritage.



. . . . . . . .



07.22

Structural elements are in place.

We water-soaked the handrails and fastened them on top after installing the railings. Exterior columns have been placed and anchored to their original position. We then used chalk and sawdust paste to fill the gaps and cracks.

Painting coming soon!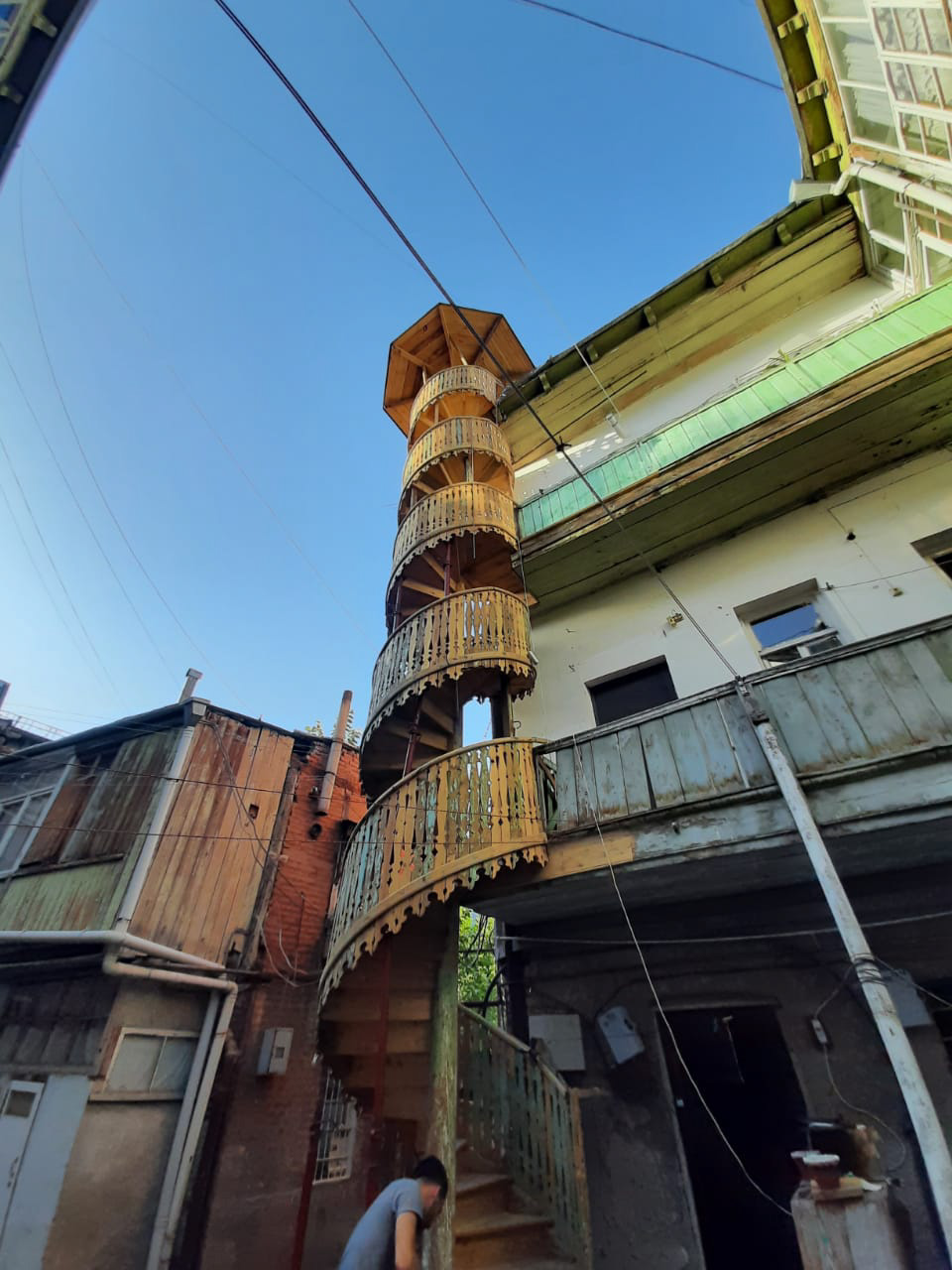 05.28

Wood construction has begun!

The central column has been anchored to the foundation, and the risers, treads and beams are being slotted in. We have conserved the woods which were not mechanically damaged and rotten, and anchored the structure to the house's timber beams.

Railings coming soon!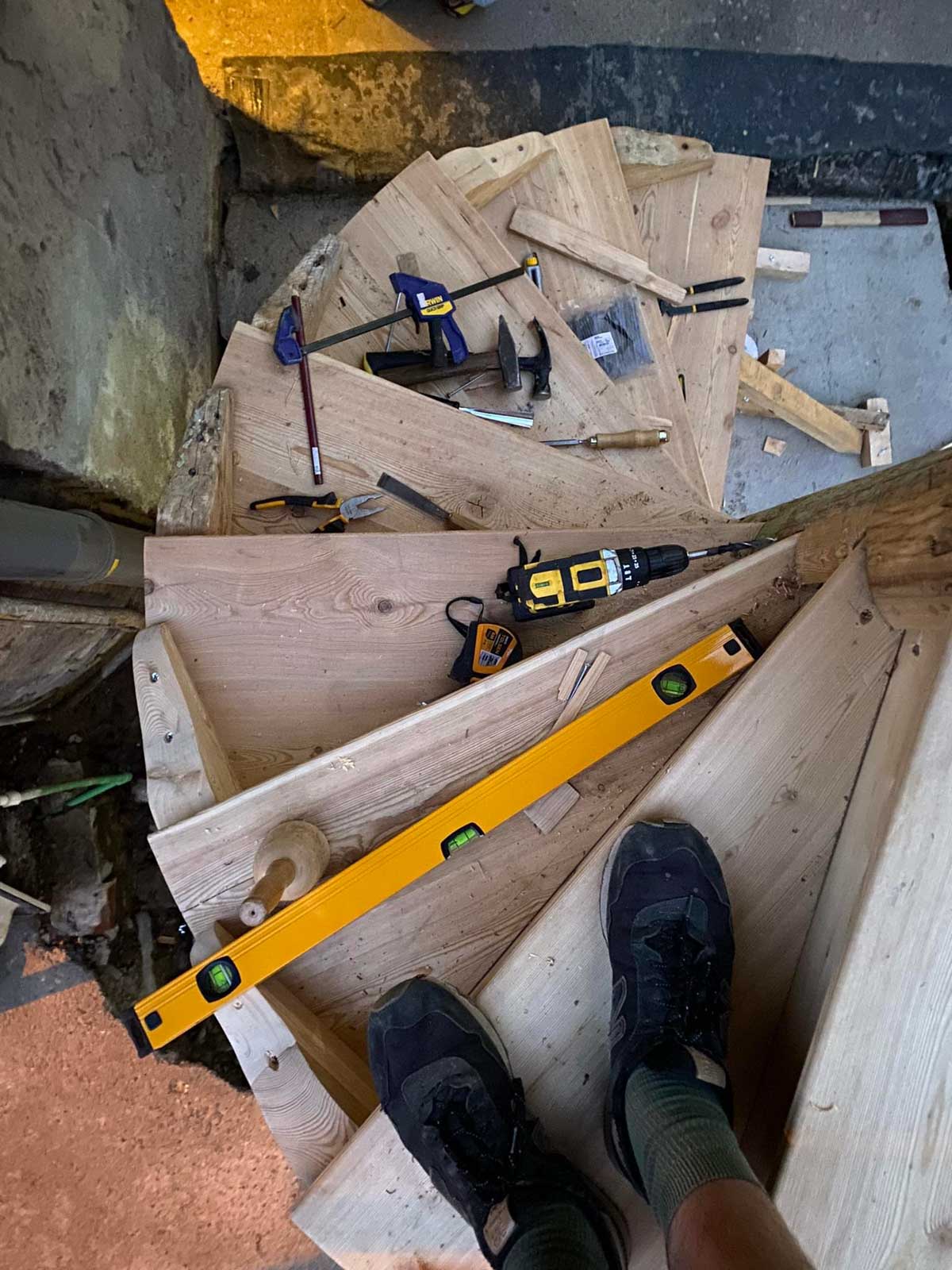 02.27

Kibe project continues!

In the new year, we have arranged the foundation and made infrastructural adjustments on site. We are currently in the process of deep cleaning and conserving the materials which will be reused and re-fabricating pieces that need substitution.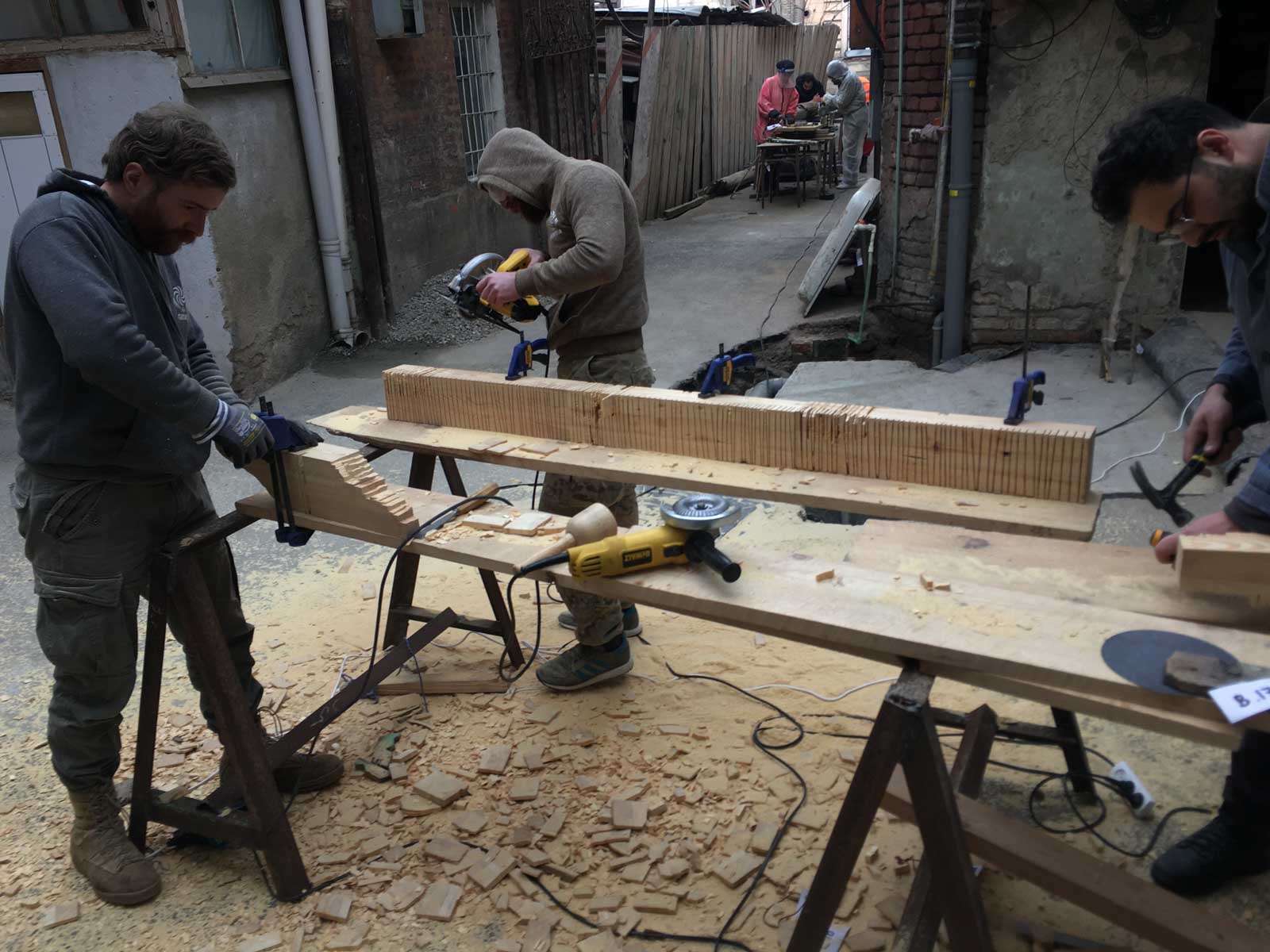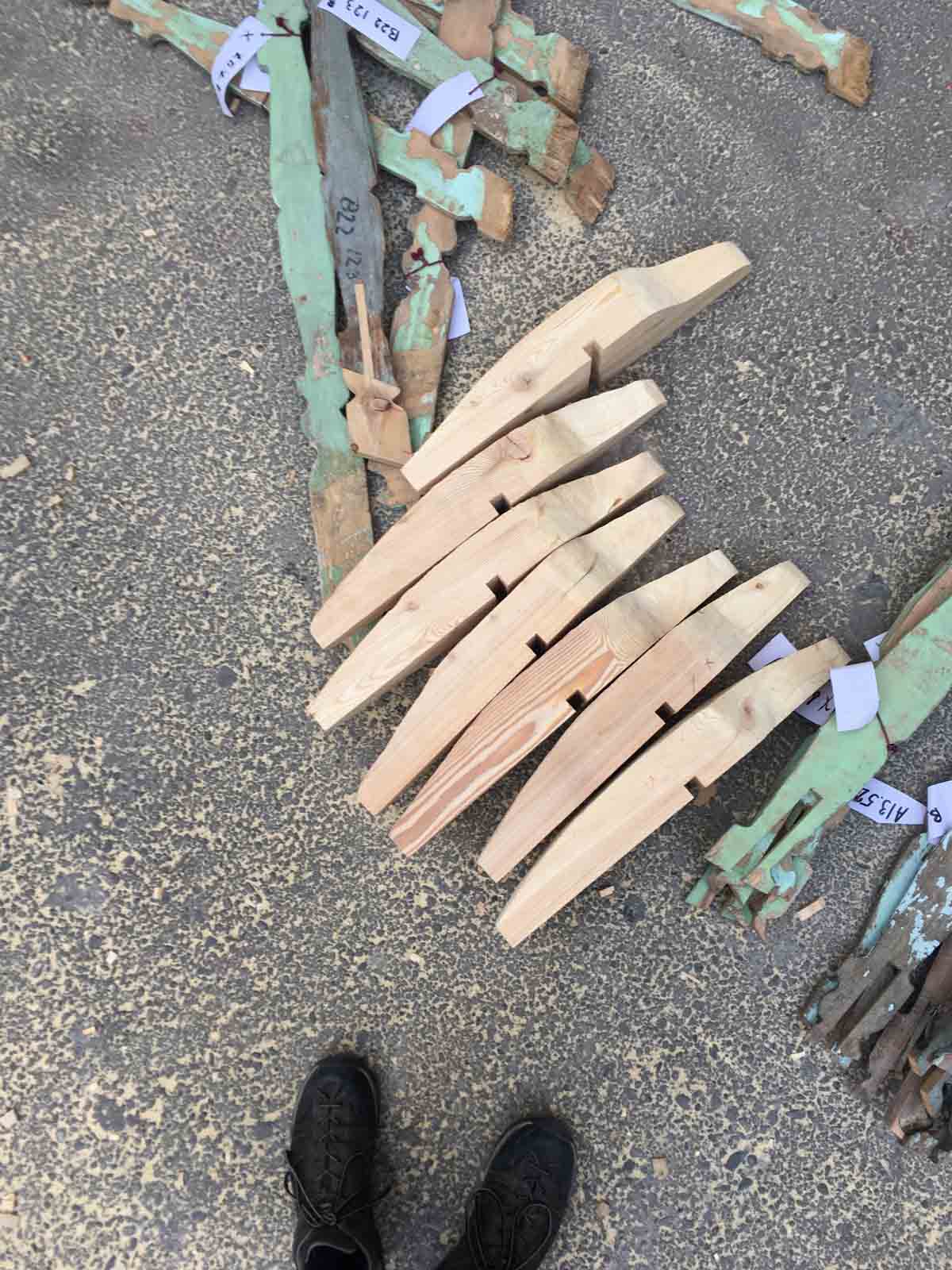 12.15

We started laying the foundations that will accommodate the staircase. Photo documentation, as well as photogrammetry of specific pieces, has been completed.

Currently, we are focusing on cataloging staircase pieces according to the type of damage. This analysis enables us to plan how to intervene on each piece during further conservation stages.
11.22

Staircase dismantling has finished.

Currently, we are working on cleaning and documenting the pieces for the coming conservation process.
11.04

Kibe Projekt has begun!

In the coming days, we will begin the dismantling and documentation process.
Soon we will be announcing a series of public workshops, focused on the careful conservation of all of the pieces.